Commercial Management Malcolm: Attachments and invoicing editions
For only Malcolm entreprise version
From the document management window, you can access the following additional functions
Bulk edition.
Présentation change.
Attachments assignment.
Management of down payments awaiting allocation.
Bulk edition
In the "Selection" column, and on each line corresponding to the documents you want to print,
Select this document by clicking in the corresponding checkbox
You can select / deselect all documents, by clicking on the icon
Then click on "
print the selection"
Changing presentation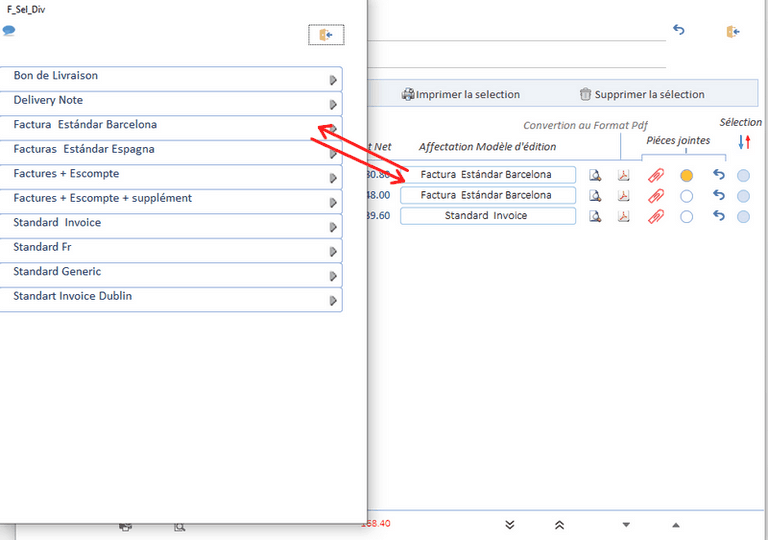 For each document you can change its presentation template
Click in the area provided for this purpose to select the presentation template that suits you

WARNING: This only changes the presentation format you select as defined in "Application settings -> document layout."
The document will be printed in the current language.
You may need to change the language and/or presentation, to have consistency between the presentation and the language used.
Attachment assignment

An orange circle indicates that an attachment is attached to this document

If the document still exists, and if you click on the icon the document will be displayed. If not, you will be prompted for an attachment location selection window..


Clic on to unlink the attachment from the document, the color of the circle returns to its original color The document is not deleted, Only the link between document and attachment is broken.
When you select a document, it is systematically copied into the "Scan" directory of the application, or into another location that you may have defined. (Home screen -> survival zone)
The original document is never moved.
Deposits or vounchers informations

Down payments received pending: this form, purely informative, displays the list of down payments received by your customers.
during the final payment of the invoice, you must uncheck this value in the column "Unused deposit" so that it no longer appears in this list.
This functionality is also available in the "Payment" tab of the commercial document.